Travel info


Travel informaton on Hungary in general


History and culture

Hungary was one of the better off states from the former Eastern Block when joining the European Union in May 2004 but since then has suffered from the general economic crisis in Europe. Hungarian people, the so-called magyar's, speak their own langugae which is only similar to Finnish and Estonian slightly and is routed back to inner Siberia from where, theoretically, the Hungarians migrated east before conqering the Carpathian Basin in the year 896. Our first king, Stephen, was crowned in the year 1000 and he made the nomadic tribes take up Christianity, build a church for every ten villages and thus making the people settle. Through his marriage Hungary quickly gained German influence but it was not before driving out the Turks, who conquered most of the country for 170 years in the 16th and 17th century that the Austrian Habsburgs really got to rule the country. The only exception was Transylvania which now belongs to Romania.

Hungary signed a peace contract with Austria and this Franz Joseph emperor officially became king of the country in 1867. The country propered under the peaceful years of the monarchy until the end of World War I, when the peace treaty of Versailles (France) took away two thirds of the Hungary. The country lost its seashore and ever since the people have a real affection for Lake Balaton, which to them is now the Hungarian Sea. Hundreds of thousands from Hungary and the Comecon countries spent their vacation here in the communist times and as rules easened and tourists from western countries were allowed to visit more and more, this became the place for German families, devided by the Berlin Wall, to meet up for the summer. Up until today many people from Germany and our ever-lasting friend, Austria, visit Lake Balaton each year or even have their villa here, but in the past decade many people from The Netherlands, Italy, France, the UK and even from Russia and the US visit the area which has generally become less expensive as in the 1980s-1990s.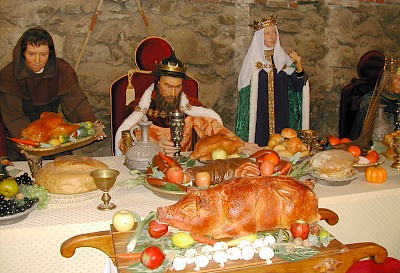 Although Hungary joined the Schengen treaty, the country still doesn't use the Euro so you will have to change money or use an ATM. There are usually many shops in larger settlements and most villages have one or more small stores but since we have taken over so many things from the west, there are now supermarkets and shopping centers all over the country, it is thus usually not a great drive to the next Tesco's. Certainly, the next one (and the next Lidl) to our apartment is only 9 kms away but we do have a village shop, too, 200 meters up the road. Therefore, you will find almost everything here that you have in your own shops at home.

Hungarian people ar usually friendly but lately the economic situation has changed so much (half of the people are bankrupt) that I see more gloomy faces around then ten years ago. Regardless, we make friends very easily and Hungarians are traditionally famous for their hospitability.

Most older people in Hungary will not speak languages or if they do, it will be a slice of German they likely picked up before communism. Most people forgot the Russian that they had to learn in school but much of the younger generation knows English to some certain extent. Because of the tourism, people around Lake Balaton mostly speak German. If you can find a common language, it's easy to converse with the local people. Most favourite topics are politics and football but you can also always find common interests in food and drink as well as ways to make your wine, and so on.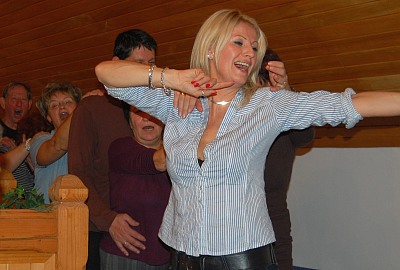 Hungary has many nice traditions such as its well preserved folklore. Folk music is quite special and very diverse, such as folk dances from different areas of the country. A speciality is the preservation of folk music and folk dancing from Hungarian speaking territories such as Transylvania which now belong to neighbouring countries. Much of these traditions were maintained with the help of enthusiastic volunteers such as the young Béla Bartók who later included many folk tunes in his compositions. There are also many areas with traditional architectural styles and several open-air museums showcase preserved historical buildings, often moved piece-by-piece to the museum site. The most famous such museum is the Skanzen of Szentendre which even hs its own preserved railway station and working railway line!

There are altogether 9 locations in Hungary that are listed by Unesco as World Heritage sites. Two of these are landmarks in Budapest and the rest contain the traditional village of Hollókõ, our Hortobágy (the Great Hungarian Plain), the landscape around Lake Fertõ (Neusiedlersee), the dripstone caves of Aggtelek, the Tokaj wine region, the abbey of Pannonhalma and the early Christian cemetary of Pécs. The largest churches of the country are the cathedrals of Esztergom and Eger and one of the finest structure is the Building of the Parliament. The Abbey of Tihany on Lake Balaton is not only in a very pretty setting but its founding document, dating from 1055, is also the first paper to contain Hungarian words in writing. There are many nice mansions and palaces which are available to visit or which function as hotels. The best known palaces are those of Keszthely, Fertõd and Gödöllõ.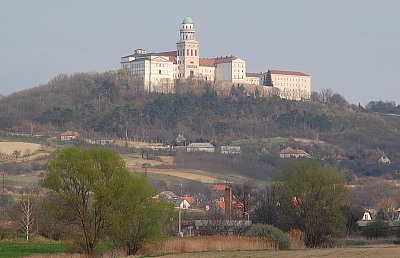 Gastronomy

Hungary has 22 different historic wine regions so there are a lot of good wines in the country. Most famous ones are the Tokaj aszú desert wine and the Bull's Blood (a rich and spicy cuvée) from Eger but there are so many good wines that you can't really list them all. The mostly produced wine in the Badacsony wine region is Olaszrizling, a Hungarian riesling variety. Beer is also good in Hungary. Although now owned mostly by foreign companies, we still have four major beer factories (in Budapest, Sopron, Pécs and near Miskolc). A lot of microbreweries can be found all around, the nearest one to the NOHAB Apartment being some 15 kms away at Vonyarcvashegy, about half way to Keszthely. This has a good Bavarian type light beer and a nice dark that almost resembles Guinness.

Hungarian food should also be mentioned. Several famous dishes originate from Hungary, best known is the goulash which is a rich soup. We are also always proud of our spicy fish soup and good stews, as well as our stuffed cabbage. The cold fruit soup is very refreshing on a hot summer day and we have our dough bread (called Lángos) that you can buy at the beaches, topped with cheese, garlic and sour cream. In fact, our sour cream (called tejföl) tastes a little different from what you can buy in other countries and we really love it. Try the brand Bakony if you can. We use sour cream for many dishes, for example mushroom soup or the meat-filled pancakes (hortobágyi húsos palacsinta). Many festivals will include cooking in large pots over an open fire and the favourites are cattle or sheep stew. When we use a lot of red paprika and lighter meats, served with home made dumpligs (called galuska), the dish is called pörkölt. You should one day try the pörkölt from roosters, or their testicals!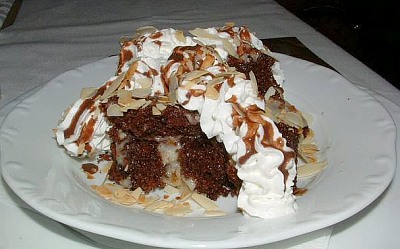 We could list many more dishes but for that you have so many other web sites and we just want to give you an initial impression. A good meal is always followed by a nice desert and this can be home made fruits (stored in bottles for up to several years), pancakes, ice cream, or one of the many nice pastries, such as the somlói galuska, a spunge soaked in rum and topped with whip cream, chocolate dressing and raisins. The gesztenyepüré (chestnuts cooked and mashed, topped with whip cream) and strudels are also very common and no Christmas may pass without sweet pastry rolls filled with walnuts or poppy seeds! Strudels filled with a mixture of poppy seeds and baked pumpkins are also very special!

Hungary is also famous for its waters: the lakes, the rivers and the underground waters that produce our very clear mineral waters and hot thermal springs. Nearest to the NOHAB Apartment, and also one of the largest mineral water bottling plants in Hungary, is at Kékkút (some 12 kms away), their waters being branded as Theodora. There are many thermal baths all around the country, the most traditional ones to be found in Budapest and some of the largest and most spectacular ones in the eastern part of the country.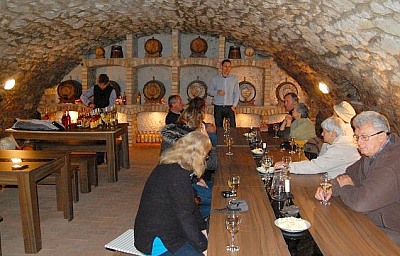 Economy

The land area of Hungary is 93,000 km square and the country has a population of 10 million. Almost 3 million people live in the central region that includes the capital, Budapest, and several smaller towns. Most of the people are not religious anymore but catholic is the major religion with a very strong presence of the reformed church (having its seat in Debrecen) in the eastern part of the country (but elsewhere, too).

Main industries of the country used to be agriculture and heavy industries but, in the past two decades, most of the coal mining and steel foundries disappeared in return for the development of the automobile industry, IT industry, banking and services. A structural change has also taken place within agriculture and tourism is still one of the most important sources of income.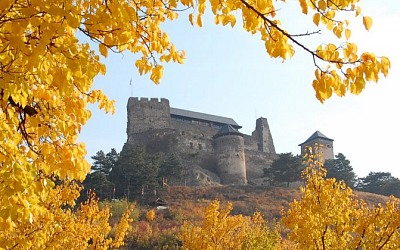 The transport system

The transport system of Hungary is fairly well developed. The country has a dense railway network, although many secondary routes have been closed recently. An interesting feature is the system of narrow-gauge lines which can be found is some of the nicest areas of the country. Gauge is usually the Monarchic 760 mms between rails. Most visited are the Children's Railway in Budapest and the short lines of Szilvásvárad and Gyöngyös. These all have occasional steam train services, as does the longest narrow-gauge passenger line of Hungary (since closure of the Kecskemét and Nyíregyháza systems in 2009) at Csömödér-Lenti which has also many freight spurs still used for logging, making it not only generally the largest network of the country but also the last proper freight operations on narrow-gauge in Hungary. This is also one of the closest of the narrow-gauge lines to our NOHAB Apartment, as is the renowned moorland railway of Balatonfenyves, of which currently only one branch (to Somogyszentpál) is still in use.

When travelling by train in the country, tickets should always be purchased in advance, unless the point of departure lacks ticket selling facilities. It is now also possible to purchase railway tickets on-line. There are two national railway companies. MÁV-START serves most of the country while GySEV is to be found in areas neighbouring Austria. InterCity and EuroCity trains usually require seat reservations which have to be purchased in advance otherwise passengers face a fine on-board. Of note is that citizens of the European Union over 65 years of age may travel for free on domestic services in second class. Here they only need to show to the guard on the train their ID card or passport that proves their age but reservations will still always have to be purchased in advance.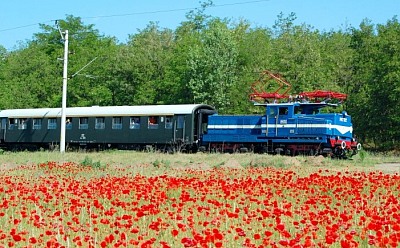 Bus travel is sometimes more complicated. Long-distance services are often crowded and in major cities you need to purchase your ticket in advance at the bus station. Other times you get it directly from the driver. There are some 24 national bus (so-called Volán) companies and it's a pain that they have no through ticketing, so you can't just go to a bus station in town A and say I want to have a reservation from town B to town C - you have to do it in town B! This also applies to return trips: you can always just reserve on services departing from where you are, not the ones coming back! Transfers won't work either, so you have to buy two tickets in every case if you take two connecting services, even if run by the same Volán company!

Hungary also has a developing highway network that nearly completely connects to all neighbouring countries and a fairly well maintained major road network. Secondry roads may sometimes be lacking some development but potholes are usually quickly filled. Hungarian motorways may only be used in posession of an electronic vignette that can be purchased at almost any filling station and which is based on duration. The licence plate number identifies the car at the electronic reading points so the vignette is not transferable. A one-week vignette for a standard car costs roughly EUR 10,00 and a one-month vignette is less than double that amount. The national airlines have just gone bust but there are still all major European airlines flying to Budapest and several cheap airlines offering flights to the capital as well as Fly Balaton Airport near Keszthely or Debrecen.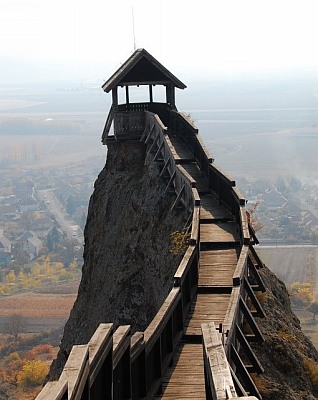 Weather and healthcare

Weather in summer is usually very much suitable for water based holidays. July and August can have daytime temperatures exceeding 30 degrees Centigrade and wintertime can be harsh, especially in January or February, when temperatures can sink below minus 20 degrees Centigrade. Generally, May to September usually produce T-shirt weather but of course there are always minor annual variations or short cold fronts, as well as one- or two-week-long very hot periods. I have made the observation that half the years even produce a very nice and warm October.

For any doctor's assictance, most villages have a local GP and towns have 24-hour attendance either at a physician's or in the local hospital. You should have travel insurance or at least your European social security card with you otherwise only emergency treatments will be performed and everything at their cost. There are pharmacies widely available at shopping centers, Tesco's, town centers. The village of Badacsonytördemic has a pharmacy outlet open for a couple of hours on Mondays, Wednesdays and Fridays but 0-24 phrmacy services are available at Tapolca, 9 kms away.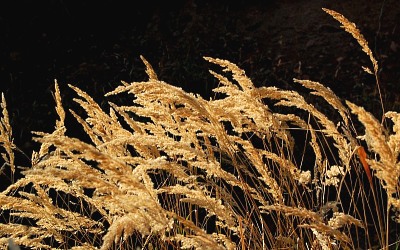 For any web-sites of the services mentioned above, please refer to the Links page.

Should you have questions unexplained here or by a quick search in Google, please e-mail us and we will try to deliver you all the answers and information you need.


Back to top of page